.
Pressure Relief Cushion
It's the perfect match
❤Try our back relief lumbar pillow.
The effect of using pressure relief cushion and back relief lumbar pillow together: 1+1>2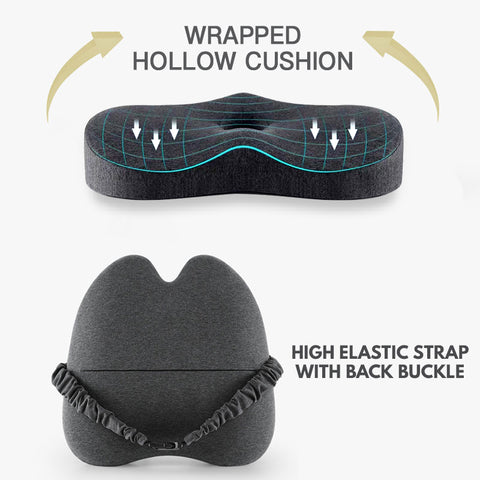 Why use a

back relief lumbar pillow

?
Fill the lumbar back gap, give lumbar spine support, lean back, lumbar spine pressure is smaller. Ergonomic lumbar cushion, the whole back comfort leaning to release pressure, lumbar back is always embraced by the feeling.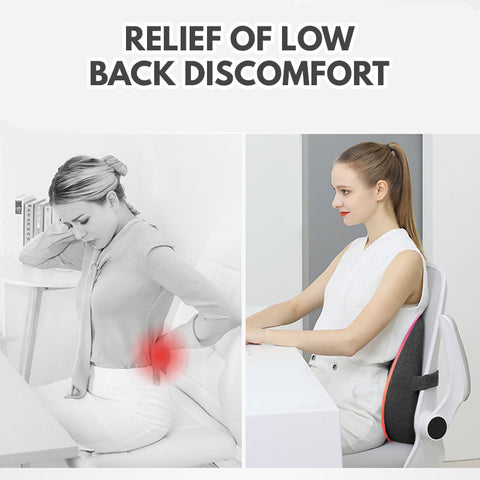 Do you have back, tailbone or spinal pain from sitting for long periods of time? Are you looking for a multi-purpose durable and high-density memory seat cushion that will make your daily work more comfortable?
This pressure relief cushion is made of the highest quality materials and meets the highest quality standards. Our seat cushion provides full support for your body to relieve pressure at your pain points. The bottom adds non-slip particles to stabilize and prevent slippage, a skin-friendly appearance and excellent tailbone and hip support for more ergonomic and comfortable sitting.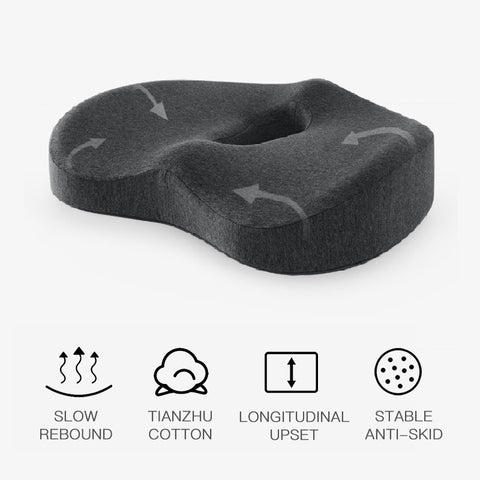 Main features
ERGONOMIC DESIGN
Designed by in-house ergonomists, its scientific design relieves pressure on the lower back and hips. Wrap-around design truly fits the hips and curved raised hip wrap. Hollow breathable design, breathable, keep the hips dry, but also protect the tailbone. w-type fit, relax the legs, not easy to pressure numbness. Evenly support the legs and relax the hip muscles.
RELIEVE LOWER BACK DISCOMFORT
Designed to relieve back pain, hip pain and sciatica. Our pressure relief pad is designed as a tailbone seat cushion to provide a comfortable sitting feeling. Its curved design minimizes the pressure that other chair pillows may cause, promotes blood circulation, and makes a nap more comfortable.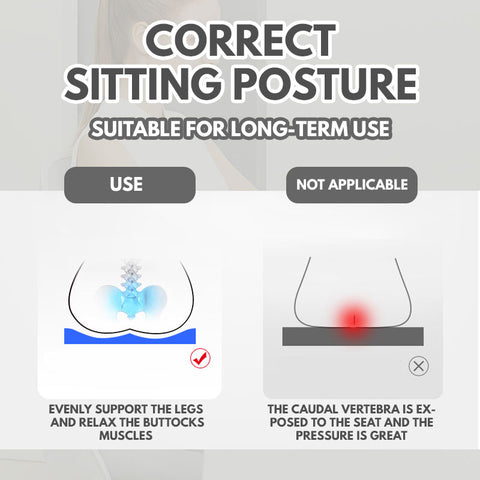 SPACE MEMORY FOAM
The inner core is made of space memory foam fabric, which is soft and comfortable, rebounding in 5 seconds and not easily deformed. Naturally fits around the legs and hips, releasing the accumulated pressure. Can improve your sitting posture, suitable for long-term use.
WIDE RANGE OF APPLICATIONS
Suitable for almost all chairs. Suitable for office chairs, computer chairs, airplane chairs, car driving. This pressure relief cushion is more breathable and has a wide range of relief for hemorrhoids, anal fissures, joint pain, sciatica, surgery and postpartum recovery. It can improve blood circulation, relieve back pain, help muscle fatigue and tight legs to improve its therapeutic effect.
Specifications

Material

Cushion:Polypropylene fiber
Pillow:Polyurethane

Product Size

Cushion:42 x 33 x 8.0cm
Pillow:39 x 38 x 10cm 

color

Cushion:Dark gray / light gray / pink
Pillow:

Dark gray / light gray / pink
Note
Due to manual measurements, please allow slight measurement deviations.
Due to the different display and lighting effects, the actual color of the item may be slightly different from the color displayed in the picture.
"I really like this product. I drive for a living and sit for 8-10 hours a day, which makes me very uncomfortable. I bought this in the hope that it would give me support and relieve the pain. After using it for a while, it really works and my back is not as uncomfortable as it used to be and it is very comfortable."
- Lois Hubbard
"It's comfortable to sits on and and I don't have to deal with pressure pain on my butt.My back and leg muscles suffered. This cushion and pillow makes any chair in my home comfortable. No more muscle pains. Great design, comfortable and washable."
- Jacob Molina
Order Processing Time:3-10 days ( Processing time will be longer in holidays)
Delivery Time: 3-4 weeks.
Shipping Method:4PX、YunExpress、Wanb Express、UBI.